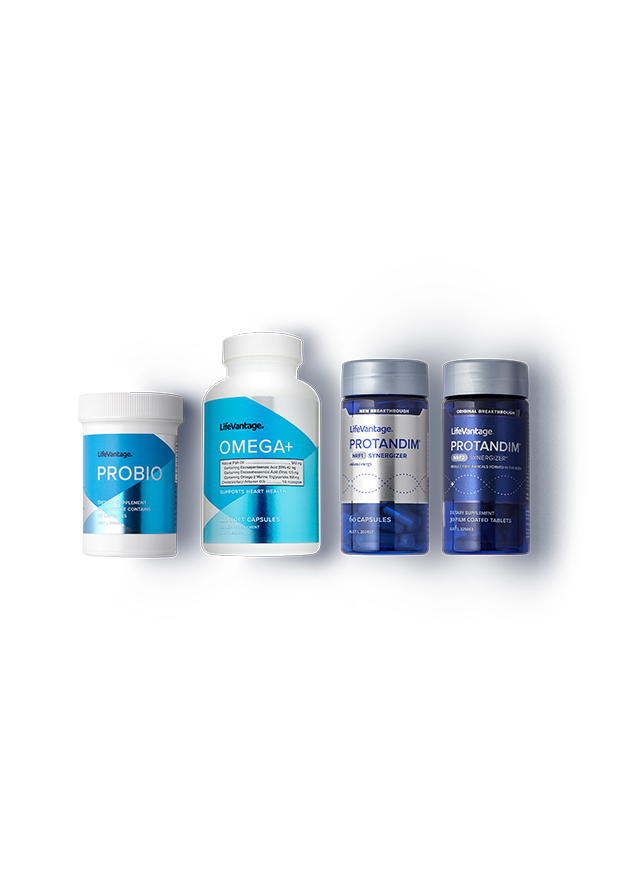 {{ product.badge }}
Free Shipping
LifeVantage® & Protandim®
Vitality Stack
Protandim® Nrf2 Synergizer™, Protandim® NRF1 Synergizer™, ProBio, and LifeVantage® Omega+
Regular

{{ formatAmount(product.groupedProductsFullPrice, {"currencySymbol":"$","format":"${currencySymbol}${amount}"}) }}

Max. Savings

{{ getSavingsPercent(product.groupedProductsFullPrice, getPrice(variant.prices, { priceLevel: getPriceLevelSubscription() }).amount) }}%
Your Price
{{ formatAmount(getPrice(variant.prices, { priceLevel: getPriceLevelSubscription() }).amount, {"currencySymbol":"$","format":"${currencySymbol}${amount}"}) }}
List Price
{{ formatAmount(getPrice(variant.prices, { priceLevel: getPriceLevelRetail() }).amount, {"currencySymbol":"$","format":"${currencySymbol}${amount}"}) }}
As an active subscriber, you've unlocked subscription savings for One-Time orders!
Choose a Purchase Type
Choose one-time order or monthly subscription before adding to cart.
$
30-Day Money-Back Guarantee
Try our products risk-free. You can return your order within 30 days of purchase for any reason.
No-Hassle Subscriptions
You can skip a month or cancel your subscription online at any time, so you can choose our best pricing with confidence.
Our cornerstone Protandim® Nrf2 Synergizer™ and Protandim® NRF1 Synergizer™ paired with ProBio and LifeVantage® Omega+. The perfect pairing of two duo's carefully crafted to bring you utmost vitality.
Protandim® Nrf2 Synergizer™ is a propriety blend of ingredients specifically formulated to help reduce oxidative stress by 40% in 30 days! Coupled with Protandim® NRF1 Synergizer™, which is scientifically proven to enhance your own natural energy levels.
With 6 Billion CFUs of healthy bacteria, ProBio provides support for your optimal digestion, and LifeVantage® Omega+ brings you the highest quality Omega 3's and Vitamin D to optimally support and maintain your heart and health.
Label Info & Usage
Please view individual products for their label and ingredient information.